Dispense palm brushes with kitchen soap to perfectly clean kitchenware in seconds!
✅This soap dispensing brush is comfortable to grip, and protects your hand from touching the liquid directly, won't hurt your hands skin. Easy to clean and built to last a long time.
✅Effortlessly cleaning kitchen appliances, dishes, pots/pans, Great for automobile, household equipment, and more. Simplify your work process, and save you time.
Our dishwashing brushes are made of high temperature resistant nylon brush filament, which is soft and will not damage the coating of the non-stick pan. Nylon brush filaments can easily wash away grease and dirt and are durable.
Built-in liquid storage tank, you only need to press the top soft glue to discharge the liquid. Press the liquid-the cleaning liquid is not wasted, cleans smoothly, and is economical.
100% premium quality, no mildew smell, anti-bacterial. To be more clean and healthy, these scrubbers are no smell, safe, and resistant to bacteria.

Easily deal with tableware, coated pans, bowls, scoops, basins, bathtubs, cups, stoves, ceramic tiles, Or other kitchen utensils, so that tedious cleaning becomes a pleasure.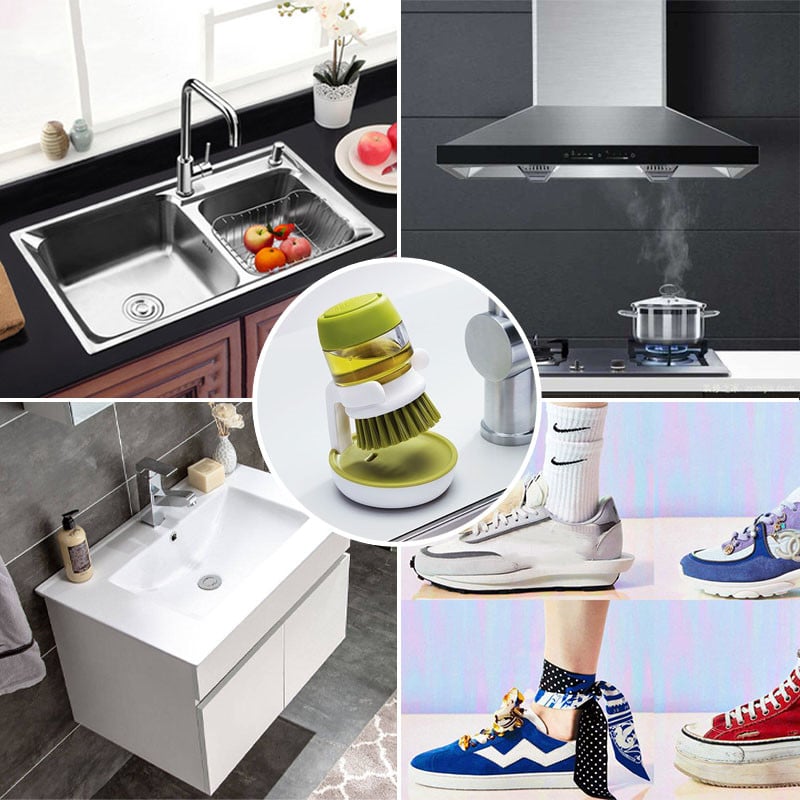 ADVANTAGE
Convenient liquid discharge, strong decontamination, no sticky hands, no skin damage. No need to wash, save time and effort without hurting your hands, and powerfully decontaminate.
SPECIFICATIONS